Military Trailer Flooring
OHC has provided Apitong/Keruing flooring for the military since the 1970s. In 1998, the U.S. Army TACOM specified that all U.S. military trailers must meet or exceed the strength ratings OHC developed for our truck flooring, and we are the only company capable of producing to those standards. Our strong and durable flooring reliably supports tanks, Humvees, trucks, and other heavy equipment, making sure our troops get where they're needed. Our flooring innovations increase longevity and reduce maintenance, and our long track record of speedy response time means we keep the military on the go.
Established Programs
Original Equipment Manufacturers
Economical solutions for newly manufactured military trailers.

Kits provided for military testing.

Tested in-house for appropriate load ratings.
TACOM (Tactical Army Command)
Supply various depots with stocked floor kits through contracts.

Contracts for resetting (refurbishing) programs with floor kits.

Offer direct order program through the Defense Supply network.
Available Floor Kits
M172 Series: M172, M172A1
M870 Series: M870Basic, M870, M870A1, M870A2, M870A3
M871 Series: M871, M871A1, M871A2, M871A3, M871A4
M872 Series: M872, M872A1, M872A2, M872A3, M872A4
Direct Shipment
Flooring and floor kits are available to ship directly to remote locations with trailers in need of repair.

Global shipments subject to economical transit cost limitations.
Resources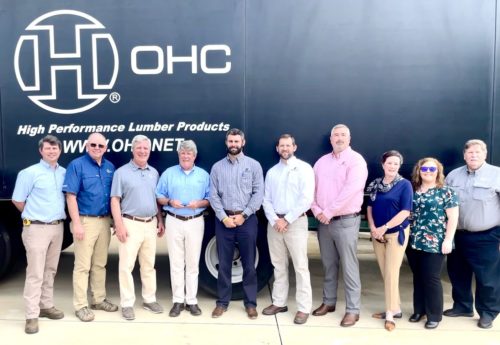 Fontaine Trailer presents the Fontaine Trailer Supply Partner Excellence Award to Overseas Hardwoods Company (OHC).  This is the first ever award for Fontaine to present to a vendor.  OHC is a supplier of imported High Performance Lumber Products, including the Apitong that Fontaine installs on their platform trailers….
Our products have a personal touch.
We don't leave anything up to chance. That's why our executives and team members personally travel to Southeast Asia periodically to visit mills, inspect harvesting practices, and establish relationships. In fact, our purchasing procedures include Chain of Custody documentation with every shipment.
We ship anywhere in the United States.
From Southeast Asia to your company's doorstep, we handle all of the logistics in between. Our Apitong / Keruing is unloaded and inspected by our team as soon as it arrives in the Port of Mobile, then transported directly to our Stockton manufacturing facility to avoid excessive damage.
You design it. We machine it.
You can rely on us to make any pattern or profile you require. Our 300,000 sq. ft. manufacturing facility allows us to custom mill any species from 4' to 55' long and almost any thickness and width. From ripping to drilling to finger-jointing, we have your project covered.
Sales Team
W.R. "Bill"
Schaffer
VP Sales
Bill is an empathetic, passion-filled person. In all aspects of his life, from family to work, Bill challenges himself to be the mentor of mentors, bringing significant "firsts" into people's lives. Aside from spending time with his wife, children and grandchildren, he's also an avid sports fan and fisher and enjoys volunteering his time to help others.
Eddie
Wagner
Transportation Sales
Beth
Clarke
Transportation/Government Sales
Beth is a fun loving individual with zest for life! When not traveling for OHC, Beth can be found planning her next adventure, soaking up the sun on the beach or spending time with her family.