Aftermarket Trailer Flooring
Eventually, the inevitable happens: a trailer becomes damaged or wrecked, requiring a repair or replacement. We supply original equipment manufacturers (OEM) with OEM-quality replacements, from shiplap flooring, lowboy decking, reefer subfloor, slats, and more. All of our aftermarket products meet our same stringent standards for quality, making the repaired or replaced product as good as new. Our state-of-the-art lumber processing facilities allow us to create any size component necessary to provide the highest-quality, most cost-effective solution to keep your fleet moving. We provide aftermarket programs through OEMS, large parts and distribution houses, and some small regional dealer markets. We're happy to connect you to the best resource for your particular need, so please contact us for more information.
Options
Shiplap, Square Edged (S4S), Tongue and Grooved (T&G), Flatbed Floor Sets, and specialty patterns available
Capability to machine any pattern
Laminated flooring, Tie slats and Scuff for truck bodies
Thick decking for lowboys and railcars
Road Load Tested® Kit design
Resources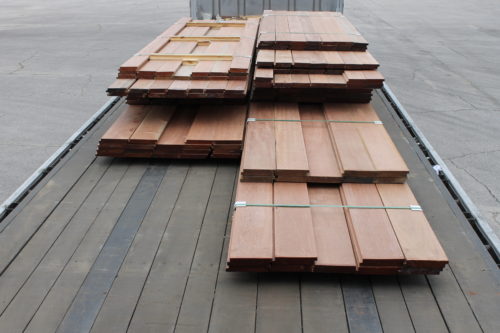 "God made the Apitong tree just for trailer bed flooring." And that's how Overseas Hardwoods Company began! Overseas Hardwoods Company has imported and manufactured hardwood lumber for over 50 years. Now run by the 3rd generation of Robinsons, OHC continues to grow and serve more of our customers'…
Dear Customers, During this unprecedented time, OHC wishes good health and safe keeping to all. We are proud to see Americans coming together with a common goal to combat this virus and thwart its adverse effects on our economy. During past times of war and economic upheaval, Americans…
Dear Customers, Overseas Hardwoods Company (OHC) is closely monitoring the impact and progression ofCOVID-19 (Coronavirus) and are adhering to recommendations from the Centers for Disease Control and Prevention (CDC), as well as, the World Health Organization (WHO). As always, our primary concern is the health and safety of…
Our products have a personal touch.
We don't leave anything up to chance. That's why our executives and team members personally travel to Southeast Asia periodically to visit mills, inspect harvesting practices, and establish relationships. In fact, our purchasing procedures include Chain of Custody documentation with every shipment.
We ship anywhere in the United States.
From Southeast Asia to your company's doorstep, we handle all of the logistics in between. Our Apitong / Keruing is unloaded and inspected by our team as soon as it arrives in the Port of Mobile, then transported directly to our Stockton manufacturing facility to avoid excessive damage.
You design it. We machine it.
You can rely on us to make any pattern or profile you require. Our 300,000 sq. ft. manufacturing facility allows us to custom mill any species from 4' to 55' long and almost any thickness and width. From ripping to drilling to finger-jointing, we have your project covered.
Sales Team
W.R. "Bill"
Schaffer
VP Sales
Bill is an empathetic, passion-filled person. In all aspects of his life, from family to work, Bill challenges himself to be the mentor of mentors, bringing significant "firsts" into people's lives. Aside from spending time with his wife, children and grandchildren, he's also an avid sports fan and fisher and enjoys volunteering his time to help others.
Beth
Clarke
Transportation/Government Sales
Beth is a fun loving individual with zest for life! When not traveling for OHC, Beth can be found planning her next adventure, soaking up the sun on the beach or spending time with her family.