Angelim Pedra, grown in Brazil, is known for its durability and natural resistance to rot. This light orange to orange-tan lumber species naturally resists rot and fungus, making it a natural choice for use in the transportation industry as trailer flooring. It has a low luster and straight to interlocked grain. Angelim Pedra is easy to work with and machines to a smooth surface.
Resources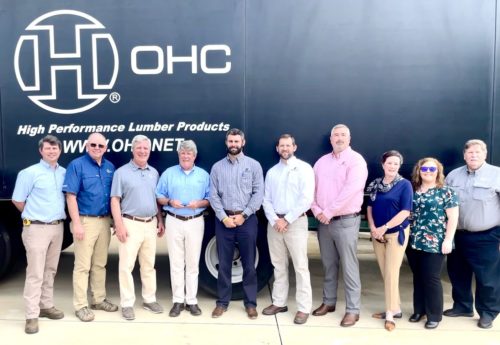 Fontaine Trailer presents the Fontaine Trailer Supply Partner Excellence Award to Overseas Hardwoods Company (OHC).  This is the first ever award for Fontaine to present to a vendor.  OHC is a supplier of imported High Performance Lumber Products, including the Apitong that Fontaine installs on their platform trailers….
Sales Team
W.R. "Bill"
Schaffer
VP Sales
Bill is an empathetic, passion-filled person. In all aspects of his life, from family to work, Bill challenges himself to be the mentor of mentors, bringing significant "firsts" into people's lives. Aside from spending time with his wife, children and grandchildren, he's also an avid sports fan and fisher and enjoys volunteering his time to help others.
Beth
Clarke
Transportation/Government Sales
Beth is a fun loving individual with zest for life! When not traveling for OHC, Beth can be found planning her next adventure, soaking up the sun on the beach or spending time with her family.