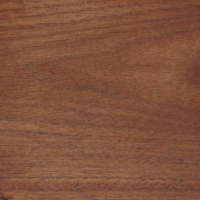 Nogal, also known as Peruvian Walnut is imported from Southern Mexico, Central, and South America. Nogal has a deep chocolate brown color with sometimes purple underlying hues. Nogal is rated moderately durable even though it can be susceptible to insect attacks. It is typically easy to work and glues, stains, and finishes well. It is often used for furniture, cabinetry, veneers, flooring, musical instruments, and interior trim.
Availability
Select and Better
Mixed Grain
4/4 Thickness
Sales Team
Jess
Fulcher
Millwork Sales
Jess is originally from Dallas, Texas and has been working in the lumber industry for 41 years. Throughout his career, Jess has lived in Bolivia and spent much time traveling throughout South America.
Tony
Jackson
Millwork Sales
Pudge
Shatzer
Millwork Sales Supervisor
Joey
Skinner
Outside Millwork Sales
Joey enjoys tailgating with his wife and kids at LSU football games and supporting Tigers baseball.  In his spare time he is an avid SEC sports fanatic, loves cooking gourmet meals, gardening, watching live music, hunting, fishing, and helping others that are in a time of need.